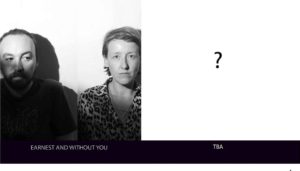 Earnest and without you
On may 26th 2017 earnest and without you finally released their EP "eight fold" and with this along comes a new name, a new sound and an extended line-up for the live performance. Already the new name EAWY, an abbreviation of the bands name, stands for tightness, pithiness, power and a music one has to unscramble, to discover. EAWYs new sound is characterized by fundamental, powerful drumbeats. They create space for epic synhesizer sounds and tender melodies played by e-guitars, that condense into a wall of sounds and suddenly reveal something very intimate and personal. In the title track "eight fold" singer Daniella Grimm tells us with anger: "I strip my garments from a wornout body to the ground". Shortly thereafter she sings affectionately with her haunting head voice "vast nameless space, that we better should plant with bountiful trees".
"Filling ritual voids" is the second track on the EP. EAWY recorded it live together with Friedemann Pruß on drums and Ben Sandrock on the second e-guitar. The track seems to take the audience through all highs and lows one can imagine and somewhat reveals the processes EAWY went through during the past two years: "start over, get back, start over, get back, start" sounds like a mantra, sung every day, again and again, especially when life (as musician) becomes more complicated. After the split with their label Analogsoul Antonio Passacantilli and Daniella Grimm wanted to re-appropriate their music. Everything is in their own hands again and that`s why the EP has been released unsigned.
Und hier könnt ihr gleich mal reinhören
https://www.youtube.com/watch?v=fVb9Va1L7YA
Wie immer gilt, dass Deutschtümelei, Sexismus, Rassismus und anderer Mist nicht willkommen sind und nicht geduldet werden.